Fit-N-Trim classes are held at either our climate-controlled indoor facility at 108 Newburyport Turnpike, or at our outdoor ring at 103 Haverhill Street.
You may register online for classes up to two days before they are scheduled to start. If you would like to register for a class within two days of the class start date, please call 978-948-2745 to confirm that space is available.

The "NERVOUS NELLY" CLASS for SHY DOGS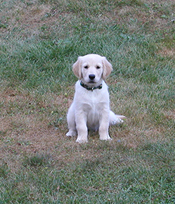 Do you have a dog that is reserved, skittish, or avoids other people or dogs?
Is your dog overwhelmed or easily frightened by certain situations?
There are many ways to improve a dog's confidence, build trust and help them become more comfortable in their world.
This 3 week class offers a variety of fun strategies and activities to explore. Handlers will determine which ones work best for their dogs and develop their own plan for their dog. We will use positive reward-based training and a smaller class size to provide a calm, supportive and fun environment for learning.
Class Session: 1 hour per week, for 4 weeks
Location: The Adams Mall, 108 Newburyport Turnpike, Rowley, MA

BASIC MANNERS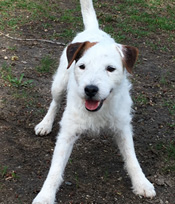 This course is designed for dogs 6 months and older who have not mastered basic obedience skills. The course focuses on skills such as sit, down, stay, leave it, waking on lead, and come when called. Both voice and hand signals are introduced. The focus, as with all our obedience classes, is on establishing a bond of trust between the handler and the dog. The goal of the course is to help the dog become a good canine citizen and a valued family member while helping the handler establish the leadership needed to be successful.
Class Session: 1 hour per week, for 6 weeks

Cost: $185
Location: The Adams Mall, 108 Newburyport Turnpike, Rowley, MA
Tuesday: 5:00 pm
Full
Thursday: 7:10 pm
TBA
Saturday: 10:15 am
July 22


PUPPY 2 / INTERMEDIATE MANNERS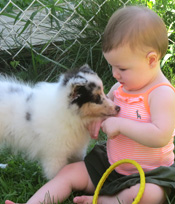 Details on this class can be found on the PUPPY PAGE

BEGINNER RALLY OBEDIENCE (Rally-O)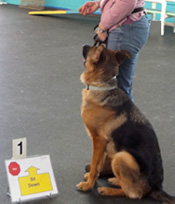 Rally Obedience is a fun and exciting team sport for dogs and their handlers. In Rally-O, dogs and their handlers navigate a course guided by numbered signs, each of which indicates an exercise that they must perform successfully before proceeding to the next sign. The individual exercises are both fun and challenging. All dogs, purebred or mixed breed, may compete in Rally-O.
Dogs and handlers work on basic heeling and recall skills. Whether you are interested in competing or just want to spend some extra time having fun with your dog, Rally-O offers a positive, fun environment in which you can sharpen your dog's basic obedience skills and bond with your dog.
Class Sessions: Class meets 1 hour/week for 6 weeks
Sundays: 12:00 pm
April 16


COME WHEN CALLED / LEASH WALKING COMBO CLASS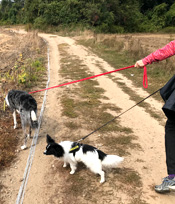 This class will focus on walking on a loose leash, and the always important "Come When Called" — two important safety-conscious life skills.
This is not a competition heeling class, but a pleasure walking class. Focusing on the dog not pulling allows you to enjoy your walks. Teaching your dog to walk on a loose leash takes time and we will show you in short, easy steps how to work towards your goals. It is also important to learn about the correct, safest equipment for your dog for you both to enjoy your walks.
Come When Called is another very important life skill. This class can teach a young dog CWC, or re-teach an older dog, how to respond to you by building your relationship and making things fun, with easy steps towards your goal of your dog coming when called.
For real life situations while walking your dogs, when weather permits, this class will be held outdoors as well as indoors. We will use our fenced sand ring and also be out and about on the rest of our (fenced) property.
Class Session: Class meets 1 hour/week for 6 weeks
Location:
Adams Mall, 108 Newburyport Tpk, Rowley, MA

Wednesday, 7:30 pm
July 12

Monday, 6:00 pm
TBA


CONTROL UNLEASHED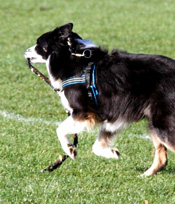 A class for exuberant, mildly reactive, or easily aroused/overstimulated dogs to help them learn to relax, focus, and engage with their handlers in new exciting, and/or stressful environments
Who should take Control Unleashed class? What is the difference between Reactive dog 1 and Control Unleashed?
We recommend Control Unleashed vs. Reactive 1 for dogs who are more dog social, for people who have struggled handling their dog's exuberance in agility or other classes, and for those who have gone through basic and intermediate and want to do more with their dogs.
Class Session: 1 hour per week, for 6 weeks | Cost: $225
Location: The Adams Mall, 108 Newburyport Turnpike, Rowley, MA
There will be no make-ups for this class.

CANINE GOOD CITIZENSHIP (Prep & Test)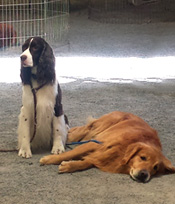 This is a class where you will be training and learning the tasks required to pass the Canine Good Citizen (CGC) test.
The Canine Good Citizen (GGC) program sponsored by K9 Advantix®, is an AKC certification program designed to reward dogs who have good manners at home and in the community. The CGC Program is a two-part program that stresses responsible pet ownership for owners and basic good manners for dogs.
All dogs who pass the 10-step CGC test (http://www.akc.org/events/cgc/training_testing.cfm) may obtain a certificate from the American Kennel Club. Tests are given throughout the country. This 6-week course teaches the basic obedience skills needed to pass the CGC test, which will be given on the last (6th) session.
The first 5 weeks will be training and practice for the test. The test will be given in the 6th week.
Class Session: Class meets 1 hour per week, for 6 weeks | Cost: $185
Location: The Adams Mall, 108 Newburyport Turnpike, Rowley, MA

INTERMEDIATE TRICK DOG
Already have your Novice trick title? Wondering whats next?
Well, we can help you on your way to an AKC Intermediate Trick title. You'll learn lots of fun tricks like ringing a bell, putting on a light, and retrieving. There's also go to mat, leg weaves, and rollover. There are really just too many tricks to name here. If you love training and love having fun with your dog, join us for Intermediate Tricks!
Intermediate Trick Dog meets one hour per week for six weeks
Cost: $185 | Limited to 6 participants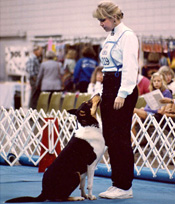 COMPETITION OBEDIENCE
Kris Thober teaches this drop-in class designed to give dogs the practice they need before competing.
This is a drop in class | Cost: $25 per session
*Please email Kris if you are interested as we need to ensure that the minimum class size is met.