KAREN GORMAN Owner & Trainer
---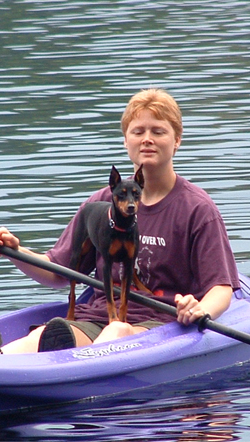 Karen graduated from Essex Agricultural and Technical School in 1991. With her dog grooming certification, Karen's career and love for dogs became a life style. Shortly thereafter Karen bought Tess, her German Shepherd dog and first agility dog, which opened many doors for her. Tess was a very special dog and she is missed greatly. Tess was known around the Agility circuit as "That German Shepherd from New England". Tess had a very fast and flashy weave pole performance; they also used to say she was a Border Collie in Shepherd clothing! Visit our About Us page to see more about Karen's dogs!
In 1995, Karen graduated from Julie Daniel's 5 day instructor certification course held at the White Mountain School of Agility in New Hampshire. In 1996, she attended a 3 day Teaching Dog Agility seminar at All Dogs Gym in New Hampshire, taught by Jean McKenzie and Gail Fisher. Since then Karen has been teaching weekly classes and attending many agility camps and seminars. Karen has worked with many of the well-known agility icons: Elicia Calhoon, Monica Percival, Susan Garrett, Jen Pinder, Rhonda Carter, Brenda Buja, Marco Mouwen, and Julie Daniels.
Karen's favorite things to do include hiking with her husband, John, and the dogs in the White Mountains. She especially enjoys Crawford Notch and Mount Cranmore. The dogs' favorite thing is swimming in the lake after a nice hike.
JULIE ANNESE
---
Julie has extensive experience working with animals in a professional setting: she is a certified groomer, has worked in animal hospitals (including Massachusetts Veterinary Hospital), and has owned a dog walking/pet sitting business for the past nine years. She was recently approved as a United States Canine Scent Sports CSD/Judge and is a Certified Professional Canine Fitness Trainer (CPCFT). Constantly expanding her knowledge of scent work training, she has completed multiple scent work webinars, workshops, and seminars, including one with Fred Helfer. Julie is passionate about animals, especially dogs, and is scent work obsessed!
Julie owns two Pomeranians and a Rocky Mountain Horse, along with a flock of hens and one rooster. In the past she's owned goats, rabbits, and other small animals. She currently competes in scent work at the Excellent level (PSD), and Fast CAT and is training in Rally and soon Barn Hunt. Vixen, her Pom, has earned numerous titles in PSD and USCSS and her other Pom, Merlin, recently earned his AKC BCAT title after only five runs. Merlin is ranked in the top 20 for Pomeranians in Fast CAT.
In her free time, Julie enjoys skiing, snowmobiling, hiking with her dogs, horseback riding, freshwater fishing, kayaking, and going to Bruins' games.
MADELYN CIRINNA
---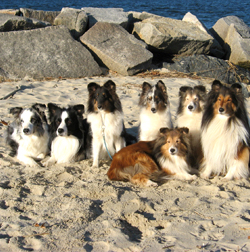 Madelyn Cirinna is a well-known local expert in dog behavior who brings a rich and diverse background to Fit-n-Trim. She was an early childhood and special education teacher for over 20 years. She was an Animal Care and Control Officer for 25 years. She is trained for Emergency and Disaster Response and gives talks on Bite prevention, Disaster preparedness, and Emergency First Aid. For the past 30 years, she has also been an obedience and agility instructor.
Madelyn's background and experience have instilled in her the importance of starting dogs out right from the time they are puppies. She always seems to have a puppy in the household. She has had several rescue and kennel dogs to help become loved household pets with new behaviors and training. Madelyn has titled dogs in obedience, agility, confirmation, rally-o, herding, hunt tests, trick dog, Canine Good Citizen & therapy. She has MACH, UD, and Champion dogs. She has bred Shetland Sheepdogs and Border Collies and is an ACK Breeder of Merit.
At Fit-n-Trim Madelyn brings her many years of experience working with dogs and their owners' positive methods to build a strong relationship and the foundation they need to have a dog that is a great family companion. Madelyn is an AKC Evaluator for CGC, CGCA, and Trick dog titles. She believes training must be fun and that every moment spent with your dog is training. Obedience training is not simply a dog learning commands, but a dog learning to learn and an owner learning to teach the dog in a way the dog can understand.
PINKY HAN
---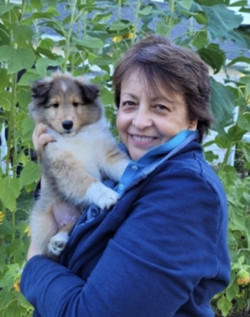 Pinky graduated from the University of Massachusetts, Amherst with a degree in Leisure Studies and Resources. Her Concentration in Therapeutic Recreation allowed her to transfer her skills in retraining individuals with life altering medical conditions to her training of animals.
She learned to use fun and play to teach skills in life, it is a transferable skill to working with dogs. Pinky groomed and trained with Olympic and World Equestrian Champions and simultaneously honed her skills for dog training.
Tilly was "the dog"! Pinky trained her for commercials, still shoot magazine spreads and advertisements and together they accomplished the complete title of Masters Agility Dog through USDAA. During those years Pinky taught at Camp Gone to the Dogs, a stay away training camp for sport dogs and their humans.
Willa, her next dog had the same training as Tilly but took a back seat while Pinky managed her daughters' Olympic career in figure skating. Willa was the anchor that made home a comfort upon returning from international competitions.
Her years of experience with Olympic and World Champion competitors prepared her for concentrating her work with sports dogs and their humans. An extensive background in sports psychology adds a layer to her training technique.
DIANE HANLEY
---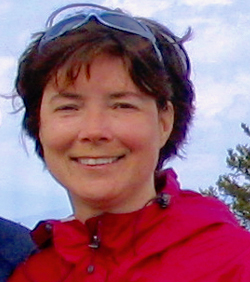 Diane is a Certified Professional Dog Trainer – Knowledge Assessed (CPDT-KA) thru the Certification Council of Professional Dog Trainers and a professional member of the Association of Professional Dog Trainers. She is also a certified L.E.G.S. Family Dog Mediator.
Diane regularly teaches Puppy K, Basic Manners, Intermediate Manners, and Nervous Nellies class. She incorporates many Control Unleashed® techniques because of their simplicity and effectiveness. Diane specializes in working with shy, anxious or excitable dogs. Her goal is to help people understand their dog's behavior and to effectively address behavior challenges. Diane is available for private lessons at Fit n Trim and is available for in-home training.   
Diane says she became a dog trainer because "It took me 6 years to find a way to train my reactive dog successfully. The training method used was positive reinforcement and it transformed my relationship with my dog from confusion and frustration to one of trust and effective communication. I was so relieved!  My dog, Miss Shelby, was indeed trainable, very attentive, and an eager learner." 
After that experience, she apprenticed with Dee Ganley Dog Training for 3 years, received her certification, and has over 300 hours of continuing education to date.  She lives on the North Shore with her husband, Mike, and  their two rescue dogs, Rudy and Domino.
KIM KEZER
---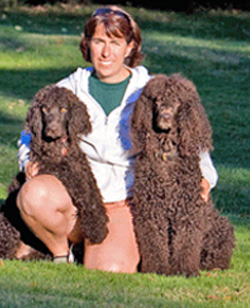 Kim grew up in Narragansett, RI and graduated from the University of Rhode Island with a BS focusing on Aquaculture. She first became involved with animal training at Mystic Marinelife Aquarium, where she worked for 13 years with a variety of seals and sea lions, dolphins, beluga whales, penguins, fish and invertebrates. In 1998, she and her new husband moved to Massachusetts with their Rottweiler and cat. There Kim became a Senior Zoo Keeper with Zoo New England (Franklin Park Zoo and Stone Zoo), where she gained experience with many land species including giraffe, primates, hippos and large cats. She is now the zoos' Animal Training Advisor, educating staff on training methods and helping them develop training programs.
Kim and her husband now live in Amesbury with their two Irish Water Spaniels (IWS), Fiona and Selchie, and their cat, Diesel. Kim's earlier experiences with animal training and her experience training her own dogs led her to the show ring with Fiona, her first Water Spaniel, who is now a breed champion with RN and CD titles in obedience. Kim and Fiona will compete at Westminster this year. They are also working on Fiona's CDX and RA, and, in the field, on her JH (Junior Hunter) title. Fiona is only the 80th IWS in the history of the breed to earn the IWSCA All Around IWS award in recognition of her accomplishments. Fiona is the mother of Kim's second IWS, Selchie, who was born in March, 2007. Selchie has a natural love of retrieving and has been great fun to train.
Kim began her formal career as a dog trainer after attending puppy classes with Fiona. Since then, she has taught a variety of courses including Tricks, Canine Good Citizen, and Therapy Dog. We are delighted that she is now bringing her wealth of training and competition experience to Fit-N-Trim.
NADINE PERRY
---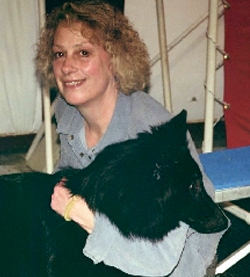 Nadine Perry, grew up with dogs and inherited her love of animals from her father who was always rescuing a stray pup or dog. He would just come home with a new member of the family that someone had given him or was not wanted elsewhere. When she was 5, Nadine brought home her first stray. Happily for the dog her owners located her but even at 5, she was prepared to feed and train her.
Nadine learned about Agility from Julie Daniels, a well-know trainer and competitor and ultimately joined an agility club and began teaching agility. Nadine has taught at Bo-Gee, New England Agility Team (NEAT), and Riverside Canine as well as at the Bainbridge Island Parks and Recreation Department in Washington.
She has competed with her dogs, Coco and Rubens, at USDAA, NADAC, and AKC trials. Coco has earned her USDAA Masters titles in Standard, Snooker, and Jumpers and also her NADAC Elite titles. Rubens earned his AKC and NADAC Novice titles before having to retire due to an injury. Nadine is now preparing her newest dog, Twinkie, for competition. Twinkie is a newly-certified Therapy Dog, who recently earned her TDI. She needs only 3 more points to finish her breed championship. She has gone Best of Breed over Specials at her 4 most recent trials.
JUDY REGAN
---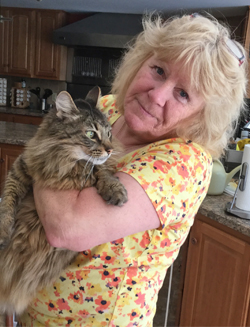 Judy Regan brings a strong combination of practical competition experience and formal training to Fit-N-Trim. She started training more than a decade ago when she and her husband, Mike, adopted Livey, a beautiful mixed-breed puppy. She first trained Livey in Obedience and then, after watching a demo at the Topsfield Fair, caught the agility bug, which led her to Karen and Fit-N-Trim in 2004. In January of 2009, after only a few years of competition, Judy and Livey brought home a C-ATCH. Judy now has three Border Collies, Reese, Amber and Rush, and she competes in CPE, AKC and USDAA. Reese now has his C-ATCH2 and C-ATE and Amber has her C-ATCH. Reese is working on his Excellent and Masters titles in AKC.
Judy's interest in training soon made her want to teach…particularly at the Beginner and Advanced Beginner Agility…because she recognized the importance of a strong foundation for dogs starting their agility careers. Since beginning to teach in 2010, she has taken a variety of classes and seminars including Control on Leash and Dealing with Reactive Dogs. She has also taken a series of Prime Time Seminars specifically designed for young dogs just starting agility. Judy has also started training the OneMind method.
NAOMI L. SMITH
---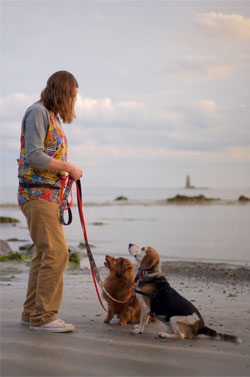 Naomi L. Smith, CPDT-KA, the owner of The Familiar Canine, is a Certified Professional Dog Trainer – Knowledge Assessed, through the Certification Council for Professional Dog Trainers (CCPDT), a Canine Good Citizen evaluator, and a professional member of The Pet Professional Guild (PPG) .
​
Naomi holds an AAS in Business Administration from Columbia-Greene Community College in Hudson, NY and a BA in Psychology, with a minor in Biology from the University of Southern Maine.
Naomi stays up to date on the latest canine learning and behavior research and dog training best practices by regularly participating in continuing education, including attending conferences, workshops, lectures, and training classes with her own dogs.
Naomi believes that training should be enjoyable for dog and owner alike. She feels that reward based training not only enables dog owners to effectively change behavior but also strengthens the bond they share with their canine companions.
Naomi currently competes in United Kennel Club and World Wide Weight Pull sanctioned events with 2 of her 5 dogs: Troody (URO1 AP UWP Troody Donuts SPOT-ON CGC TKN) and Luci (UWPS AP5 VPU UWPCHX Lucifer Morningstar WPDSW WPDSR)
KRIS THOBER
---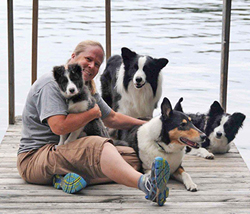 Kris started with her first dog in 1985, a Rough Collie that did obedience, herding and tracking. Her first Smooth Collie was ranked the #1 obedience Collie in the nation and has over twenty-five all-breed HITs. He was the first Smooth Collie to place in the prestigious Gaines and World Series tournaments and to be invited to the AKC Obedience Nationals.
Kris's first Border Collie introduced her to the sports of agility and breed competition. Kris has finished four AKC champions herself and has many agility titles. Her focus when teaching obedience and agility is first to ensure that both dog and handler are having fun. She has a keen eye for footwork and body language that enhances the performance of the handler/dog team.
BUNNY WATSON
---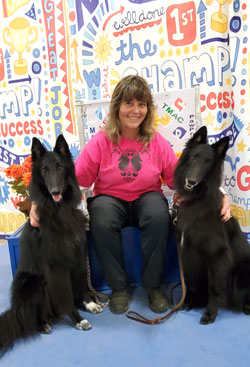 Bunny began agility training in 2006, competing in both AKC and CPE Agility since 2009 with four dogs she has trained. In addition to agility her 2 Belgian sheepdogs are also training and competing in Obedience, Rally and Scent Work. Penelope, her young shih tzu/bichon cross, has begun competing in scent and is working towards agility competitions.

Having worked and lived with animals all her life Bunny wanted to make animals a career, majoring in animal science at Mount Ida College with a focus on veterinary technology. She worked at the Museum of Science for 26 years caring for/training wildlife and exotic animals for use as ambassadors in education programs. The many animals she trained included opossums, a bobcat, skunks, and birds of prey. As a CVT she is currently working as a vet tech in a private practice. She also rides and trains horses, and has competed in dressage shows.

As a dog trainer Bunny especially enjoys working with beginners and their dogs, watching her students become a team with their dogs as they have fun learning new skills together.