LATERAL PUSHES, REAR CROSSES and 
how JUMP COMMITMENT is critical to both

Do you want another technique to get ahead of your dog, especially at the start line?
Does your dog not understand the rear cross, and either turns the wrong way or doesn't take the jump?
Do you know how to tell if your dog is committed to an obstacle, or how to teach jump commitment?
Your instructor, Kris Thober, will show you:
How to train jump commitment, and why you need it for lateral pushes and rear crosses 
What is a lateral push, how is it useful and how to teach it
How to work on your rear crosses, both over obstacles and on the flat
How you can practice at home, using just one jump 
Day

Time

Date

Status

Location

Sunday

1:00-3:00 PM
November 5

FULL

103 Haverhill Street

Equipment used: Jumps & Tunnels (no Contacts or Weave Poles)
Your dog should be proficient on these obstacles to sign up.
Cost: $60 • Limit: 8 teams • Audit spots available: $35
BEGINNER DISTANCE SKILLS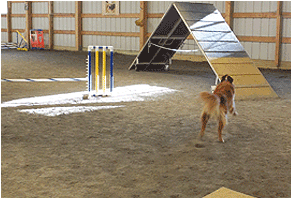 Have a rocket ship for a dog? Need distance for Gambles, Jackpot and Fast classes? Your knees aren't quite what they used to be? No matter what venue you play in, having good distance skills can help you succeed.
This 2 hour seminar with instructor Karen Gorman will present the basic skills needed for distance:
correct placement of reinforcement
confidence to move away
commands to use and practice
forward focus
where to start, then where to progress to
how to incorporate practice into your current class
Day

Time

Date

Status

Location

Sunday

1:00-3:00 PM
December 10
103 Haverhill Street

Equipment used: Jumps, tunnels, table, tire
Your dog should be proficient on these obstacles to sign up.
Cost: $60 • Limit: 8 teams • Audit spots available: $35