JUNE 3 & 4, 2017 • 9:00 AM – 4:30 PM
J
oin Fit-n-Trim Instructors Karen Gorman, Kris Thober, Nadine Perry, Judy Regan and Christina Hargrove, along with Guest Instructors Mary Champagne and Amanda Shyne for two full days of agility fun!
This camp is all about having fun with your dog and fellow students while learning more about this sport we love. This is a judgment free zone, relax and have some fun! It is not often you can go to camp with your best friends in your back yard!
---
Camp will consist of 3 groups, limited to 10 teams per group.  If you are not sure which group you fit into , or have any questions, please e mail Karen at kunabug@comcast.net
COMPETITION GROUP (Mary and Amanda)
For dogs that are already competing at the Excellent / Masters level. These dogs are proficient on all the obstacles and can run full courses.
Competition Group will work on:
Mornings: Sequences with work on techniques, skills like backside distance, and obstacle commitment.
Afternoons: Course work with handling and decision making.
ADVANCED GROUP (Mary and Amanda)
For dogs running sequences and courses, but may not be fully trained on see saw or weave poles.
Advanced Group will work on:
Mornings: Sequences with work on techniques, skills like backside distance, obstacle commitment and weave poles,
Afternoons: Course work with handling and decision making.
NOVICE / INTERMEDIATE GROUP (Karen, Kris, Nadine, Judy & Christina)
For dogs running short sequences. These dogs can sequence jumps, tunnels and A-frame. We will not be using the see saw and poles in sequences.
This group is NOT for dogs that have just started Agility classes. Dogs need to have been in group class for at least 3 sessions, or have instructor approval.
Beginner / Intermediate Group will work on:
"Front Crosses & Rear Crosses Perfected", "Backside OH  MY, including techniques that require the back side", "CPE Games", "Tunnels Every Which Way, Rear Crosses, Blind Crosses, Sends, Backsides… "

---
GUEST INSTRUCTORS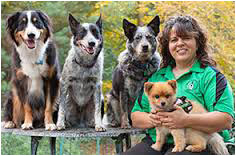 MARY CHAMPAGNE, Assistant OMD Coach
Mary Champagne first got involved in agility in 1994 because she thought it "looked fun" and has since trained a variety of dogs of all sizes, breeds and mixes thereof. She began teaching for her local agility club, SNEAK, and now runs her own training school, The Agility Facility, in Southeastern Connecticut. Mary's dogs have competed extensively in the Northeast earning the sport's top titles, and have also been semi-finalists at multiple championship events and ranked in the Agility Top Ten national standings. An advocate of strong foundation training for agility and not rushing her dogs, Mary believes that "it is a journey from the time dogs begin their puppy fundamentals until they retire." Mary is a fun, knowledgable, experienced and very approachable instructor. She says she enjoys teaching new teams and loves the diversity of breeds of dogs. She loves seeing teams come together and being able to share in their journeys.
AMANDA SHYNE
Amanda Shyne has been competing in dog agility for many years. She and her Border Collie Dilly were the 2007 and 2009 USDAA Northeast Regional Grand Prix of Dog Agility winners in the 22″ class. The team was also a USDAA Dog Agility Steeplechase finalist at the Cynosport World Games in 2008 and 2009, and a USDAA Grand Prix of Dog Agility finalist at the World Games in 2007, 2008, and 2009, placing 3rd in 2008. At the 2010 AKC National Agility Championships, Amanda and Dilly won the AKC International Jumpers class and the combined International Jumpers/Standard class. Due to her training as a researcher her agility seminars take a scientific approach to agility and dog training as it is constantly looking for the most effective ways to communicate course direction to dogs.