Conditioning Class is designed to improve your dog's core strength, condition, balance, flexibility, and range of motion.
Our Conditioning class is a fun interactive way to strengthen your dog and build a foundation for its active life style whether you do agility, go jogging together, hike, or just walk in the woods. In this class, we will teach you exercises to reduce injury and improve weight distribution as well as overall performance and function. We will start with simple exercises that you can do at home with minimal equipment and progress to more challenging exercises that require some equipment.
Conditioning is appropriate for dogs of any age, from puppies to seniors. We recognize that dogs will move forward at different paces and that they are at different places physically. This class is designed to accommodate dogs at different levels. To attend, dogs are required to have basic manners and be friendly toward other dogs.
Instructors are Karen Gorman of Fit-N-Trim and Dr. Sue Ferguson of Furway Animal Chiropractic. Together they bring many years of experience and will help you achieve your goals, whether for fun or function.
Classes are held at Fit-N-Trim's indoor heated, rubber-floored facility at 108 Newburyport Turnpike in Rowley, MA.

K9 CONDITIONING WORKSHOP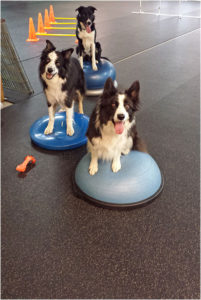 This two hour workshop is designed especially for those who who want to work on conditioning with their dogs but can't fit a weekly class into their schedule. It will introduce you and your dog to basic K9 conditioning exercises so that you can get started at home and establish a conditioning routine that works for both you and your dog. You will be amazed at all you can do once you have learned some conditioning fundamentals; your only limit will be your imagination. Even spending ten minutes, three times a week can make a huge difference in your dog's physical condition and that difference can go a long way toward avoiding physical injuries or toward a more active life style for your older dog. This workshop is for dogs of all ages, from puppies on up.
Day

Time

Start Date

Status

Location

 Sunday
 9:00-11:00 AM
TBA
TBA
108 Newburyport Turnpike
Limit 8 dogs. Cost: $60